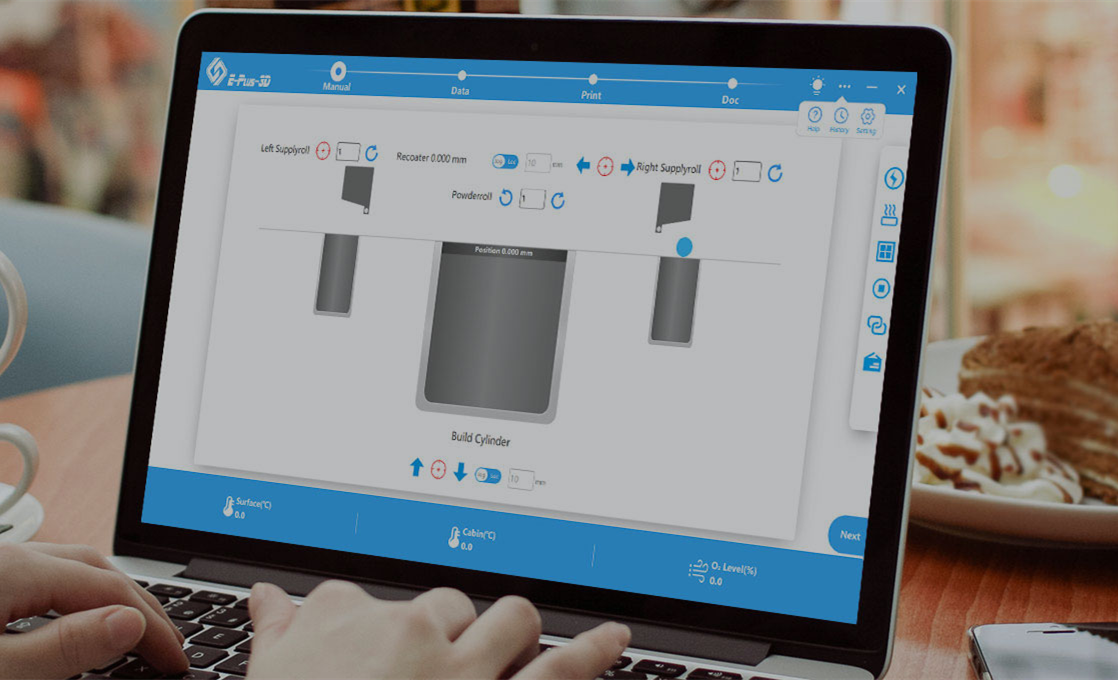 An innovation and creative 3D printing software solution is the key to promote the development of additive manufacturing and metal 3d printing.
Eplus3D printing software can complete the entire control process from data preparation to parts processing , which can absolutely meet the production management and control needs of intelligent workshops. The control software is mainly composed of manual, data, print and doc page. It is easy to operate, streamlined and intelligent. The software can realize "one-click printing", intelligent monitoring and alarming, and can automatically generate a printing report after the printing process is completed, users can easily complete the printing task according to the operation instructions.
Automation
"One-click printing" enables our users to possess fast and convenience printing, which can be automatically printed after the environment reaches the standard, without personnel guarding;
Intelligence
During the printing process, the current molding cycle progress like total molding height, total number of layers, current processing layers, required processing time, starting processing time and processing time will be presented in time;

The powder supply amount provided by each layer can be automatically calculated and optimized in real time according to the required printing area and position of each layer;

Eplus3D additive manufacturing software supports real-time modification of part process parameters without stopping during the printing process;

The control software opens galvanometer parameters and laser parameters, support online real-time modification;

The printing software has the function of scanning and cooling: after the single-layer model is scanned, the delay time can be set by itself;

The same model can be processed by editing different layer thickness processes in the z-direction (vertical direction);
Accuracy
Rotate and movement are supported. Accuracy within 0.001 mm;

The control software has the function of automatically calculating the machine time required for printing the current part, and automatically calculates the processing time when the file is loaded, and the estimated time error is less than 5%;
Traceability
After the printing is completed, the control software automatically generates a printing report, which includes but is not limited to the real values of the process parameters such as oxygen content, cabin pressure, and wind speed;

Layer information, zoom in/out and fillings/ boarder information display are supported;
Safety
Printing will automatically stop if the alarm ring. Detailed error message will be displayed;

In the event of a temporary power failure and other emergencies, after the device is powered on again, the software can automatically restore the previous printing state and continue printing.
Eplus3D printing software covers every process step and quality assurance for additive manufacturing and ensures that your company becomes more productive and efficient thanks to additive manufacturing (AM). Every 3D printer manufactured by Eplus3D will be equipped with Eplus3D Control Software independently developed. Welcome to contact Eplus3D for more tailored AM solutions and control software development.