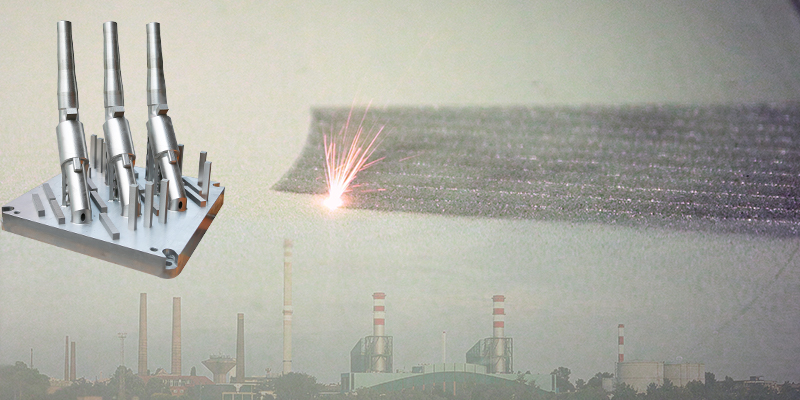 Metal 3D printing is not only an innovation of business model, but also brings huge benefits to the manufacturing industry. In the aerospace, automotive and energy industries, metal 3D printing technology is playing a more important role. According to the statistics of Eplus3D, in the future, industrial-grade metal 3D printing is expected to be considered as the main technology choice. In order to adapt to changes in industrial technology, many companies are gradually reforming to additive manufacturing. Eplus3D is also helping customers take advantage of metal 3D printing and reduce investment to achieve better production.
1. Reduce Production Cost
Metal 3D printing technology uses the principle of layering and stacking to manufacture the entire model, which means that there is no need to make parts separately and combine them again. It enables a blank-to-finished manufacturing process that minimizes the use of raw materials and the generation of scrap. At the same time, metal 3D printing also abandons fixtures and other tools, which greatly reduces the cost of time and personnel. From the perspective of long-term benefits, metal 3D printing technology undoubtedly saves a lot of cost for the manufacturing process of enterprises.
2. Achieve Mass Production
As a rapid prototyping technology, metal 3D printers can not only speed up production progress, but also support long-term production operations for enterprises. Just as Eplus3D metal 3D printer is designed to print high-quality products stably and continuously to greatly improve production efficiency. During product iteration, metal 3D printing can also manufacture products with different designs in a short time. If the enterprise wants to achieve economies of scale in a short period of time at the beginning, the application of metal 3D printing will be a good choice.
3. Support Complicated Design
The traditional manufacturing process has design limitations, which leads companies to consider whether the design can be realized rather than the optimization of function. Fortunately, metal 3D printing technology is to design products with function realization as the core. It is a digital production process based on three-dimensional data, which maximizes the realization of the designer's imagination. Metal 3D printing technology has undoubtedly promoted the innovation and development of the industrial industry.
4. Reduce Weight
You may have noticed that the shapes of metal 3D printing samples at many exhibitions are very complicated. This is mainly to create a lighter and stronger product. Unlike traditional industrial manufacturing techniques, metal 3D printing tends to use complex structures for less material and processing time. You need to be prepared to design the thinness of each layer and set up the data of the printed model to support the integrity of the entire structure. Material and cost savings can also be achieved by eliminating or reducing component support structures.
5. Better Quality
The precision of the current metal 3D printers is being strengthened, not only the high performance of structural devices but also the high quality of materials. Compared with the traditional material reduction process, the mechanical performance index of metal 3D printing technology can even reach the level of forgings. Eplus3D utilizes self-designed optical path system and high-quality materials which improves the performance and consistency of the finished product. More than 150 standards have been adopted to ensure stable and reliable machinery, quality and precision.
6. Efficient Supply Chain Management
From manufacturing to warehousing and logistics, metal 3D printing has improved the efficiency of the entire supply chain. In the traditional supply chain mode, enterprises need to purchase a large amount of raw materials and equip them with properties and personnel management. The additive advantages of metal 3D printing have simplified this process. Enterprises can produce corresponding quantities of products according to demand and reduce inventory. Shortening the entire supply chain cycle is also one of the core advantages of metal 3D printing technology to help enterprises operate efficiently.
We believe that with the development of metal 3D printing technology, it will become the core manufacturing mode in the future. More and more companies will recognize and apply metal 3D printing to achieve efficient production. We are very much looking forward and ready to witness your success!