Eplus3D is very excited to meet you in Chicago and share the latest technology in the additive manufacturing industry at the Rapid+TCT exhibition! We have prepared various metal samples printed by Eplus3D metal printers for different industries including aerospace, mold, medical and so on. You can learn more about our professional solutions at the exhibition.
About the Exhibition:
See 350+ Additive Manufacturing exhibiting companies, showcasing the latest 3D technologies and applications in hands-on exhibits. Find everything you need to know about the latest 3D technologies, all under one roof, and learn real-world additive manufacturing solutions from the industry's most respected experts. Get ahead of the competition with the technologies, products, and services that will impact your bottom line.
(From the Internet)
You can learn more at
Location: McCormick Place, Chicago, IL
Date: May 2-4 2023
Booth: 4653
How to Get Your Free Ticket: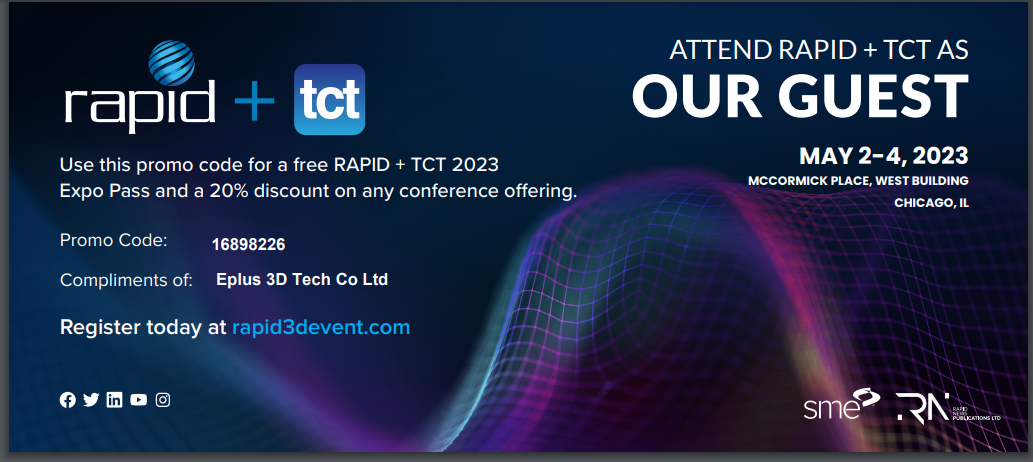 Register Entry:
https://xpressreg.net/register/rapd0523/landing.asp?sc=&aban=&hkey=&iq=&vip=&tm=&_ga=2.176594732.869095931.1677120849-1916914379.1677120849
Your unlimited code to free day tickets is:16898226