EPLUS 3D Metal Additive Manufacturing Technology
Metal additive manufacturing refers to the technology of manufacturing 3D parts layer by layer using metal powder. This process enables the production of complex structures of industrial parts that cannot be produced by conventional methods. EPLUS 3D provides advanced metal 3D printing solutions to improve productivity, product quality, and work efficiency for businesses and small businesses.
Applications for Various Industries
The ongoing development of additive metal manufacturing has expanded its application in a wide range of industries including aerospace, automotive, tools, healthcare, dentistry, consumer goods and education.
Metal additive manufacturing applications including parts manufacturing, rapid prototyping, jigs and fixtures, product customization, injection molding, medical equipment and more.
Sheet metal fabrication is widely used in industries such as electrical and electronics, automotive, telecommunications, medical, and others. Sheet metal is the skeleton that supports and shapes products like a car, computer or cell phone.
The design and manufacture of sheet metal parts is becoming a key stage in the development of new products with a trend towards diversified but low volume production.
In the conventional sheet metal manufacturing process, a punching die is used. Taking the sheet metal parts of automobiles as an example, the molding process is performed by punching, cutting dies, forming dies, separate dies, press dies, bending punches, and so on. The tooling process for manufacturing new dies is expensive and time consuming and is not suitable for the rapid production of small series of sheet metal parts.
When manufacturing sheet metal parts in small lots, many sheet metal factories use a combination of laser cutting and CNC bending technology. Compared to the conventional punch forming process, this process does not require a tooling process, which is economical and is a short cycle for the rapid production of simple structural sheets.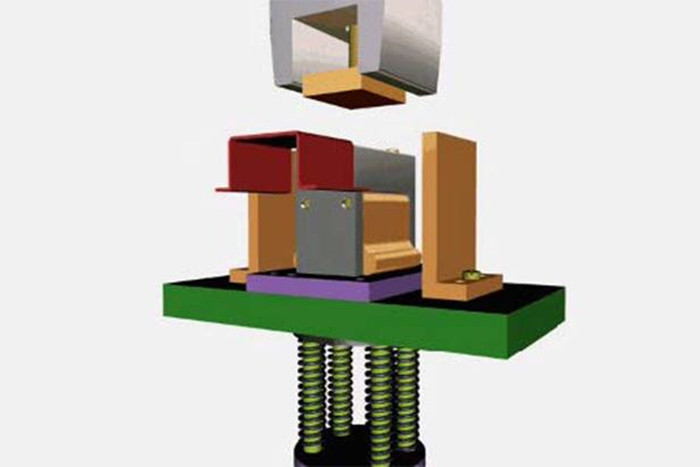 Block workpiece bending
However, laser cutting can only be used for molding and hole cutting, and bending can only be used for flat structures. This technique does not work for the production of specially shaped sheets with curved or uneven surfaces.
Flexible small lot production of car seat sheet metal parts
A car seat manufacturing company from China, specializing in the development, manufacture and sale of car seats has become the main contractor of car factories such as Chang'an, Geely, Ford, and Great Wall. They plan to unveil a new car seat solution within a week, but the tools for the core sheet metal parts are still in progress, so sheet metal parts cannot be produced.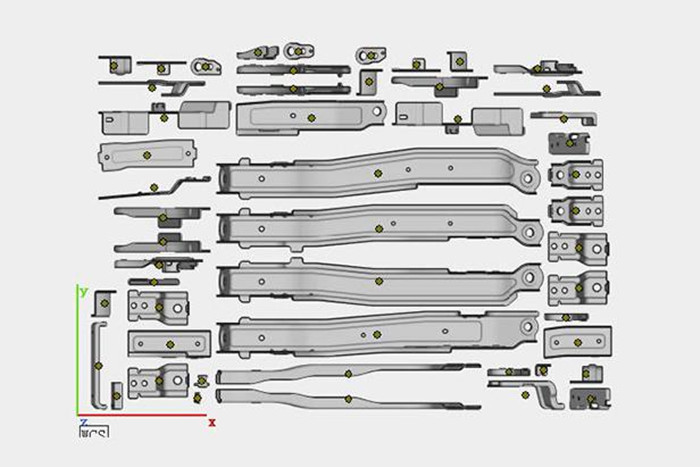 Design drawing of sheet metal parts
This car seat set consists of 78 pieces with a thickness of 1.5 to 2.5 mm. Most parts have ribs and bumps. Therefore, it is not possible to mold parts by laser cutting or CNC bending. There are also some corner areas that are limited by CNC milling and cannot be completely restored to the original design made on the milling machine. By the way, milling itself is not a very efficient process for manufacturing parts.
EPLUS 3D has provided the 3D printing solution for the sheet metal manufacturing mentioned above. After data analysis, 316L stainless steel was selected as the manufacturing material and the surface was polished using grinding. In just 7 days, we delivered the complete seat plate parts manufactured by three EPLUS 3D metal printers EP-M260, which perfectly reproduced the original design.

3D printed sheet metal parts
Based on the above case, 3D metal printing, Flexible sheet metal manufacturing and other low-volume sheet metal manufacturing technologies are compared as follows: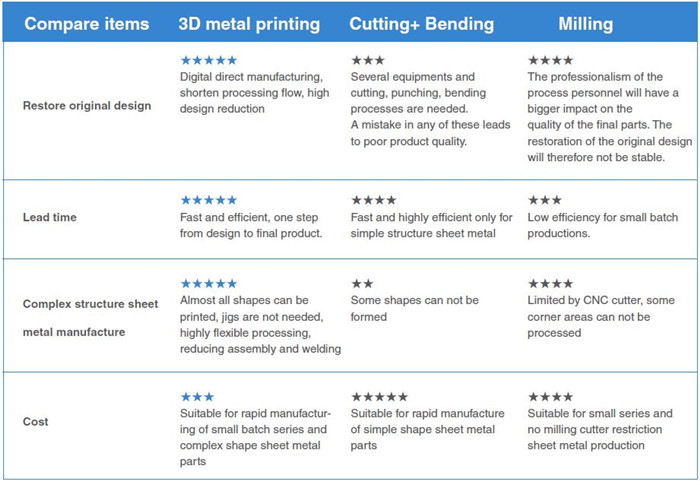 Let's check out another case to have a more comprehensive knowledge of the metal 3D printing for flexible production.
One of the machine manufacturers wants to produce a silencer consisting of four components with a uniform shell thickness of 0.73 mm and a uniform thickness of 0.6 mm for the medium structural area.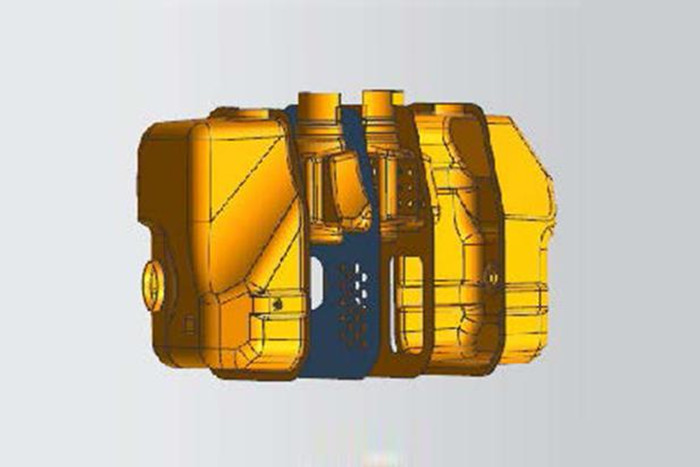 The sheet metal structure of the four silencer components is complex. It cannot be manufactured by cutting and bending. Due to its thin wall thickness, it cannot be manufactured by milling. Only two options are available. One is punching and the other is 3D printing.
Parts made with punching tools are equipped with high precision and a high degree of restoration of the original design. However, this requires a very long and expensive punching tool in production.
Due to the advantages of metal 3D printing, it takes only 3 days from data processing to product delivery, and the details of the design are fully expressed.
Finally, this customer selects EPLUS 3D to complete the task. Metal sheets printed by EPLUS 3D EP-M260 can achieve dimensional accuracy up to 0.1 mm. More and more cases are demonstrating that 3D printing technology can keep parts of high quality, significantly reduce product costs and reduce lead times.

Industry expectation
Plate manufacturing is one of the fastest growing industries in the world. Obviously, flexible production in sheet metal fabrication is the trend driven by product diversity and increasing demand for small series. More and more sheet metal processing companies are taking advantage of additive manufacturing technology, creating more value for their customers, such as reduced assembly steps, greater design freedom and minimized time and costs.
EP-M260
Dual-laser 3D Printer (Metal Powder Bed Fusion)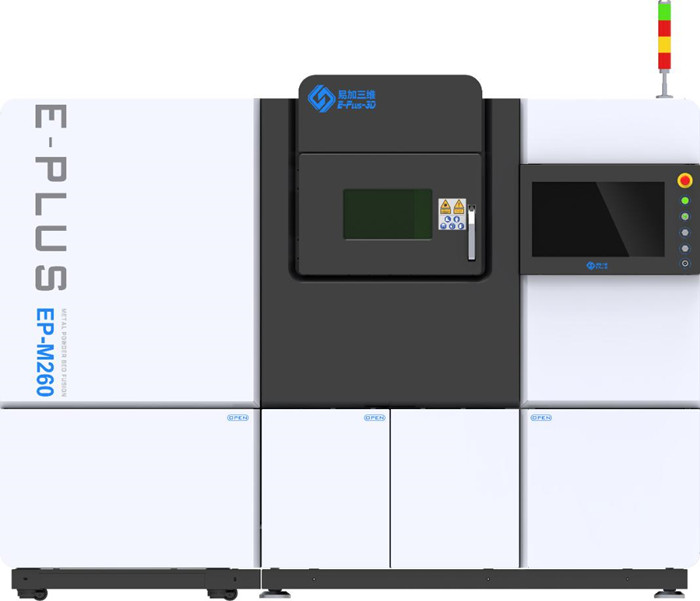 The EP-M260 is a Single/Dual laser metal 3D printer that uses advanced metal powder bed fusion (MPBF) technology. It is capable of easily and quickly converting CAD data into high-performance, complex structure metal parts. The 3D printer is ideal for medium sized parts and small batch production. The machine max building volume is 260x260x370mm