ABSTRACT
This case study describes the successful collaboration between LUMO, a renowned additive metal manufacturing service provider based in Neresheim, Germany, and Eplus3D, an international company with over 300 employees serving various industries such as aerospace, automotive, toolmaking, and mechanical engineering. The goal of the partnership was to manufacture prototypes of compressor shafts for screw compressors to be used in the construction industry. The components had an exceptional size of 100x100x400 mm and consisted of complex freeform surfaces. Traditional manufacturing methods were expensive and associated with long lead times for these components. This case study focuses on the approach where 3D printing was identified as the key technology for the production of the components. The advantages of 3D printing in terms of lead times, design flexibility, and material selection are extensively described.


BACKGROUND
LUMO received a request from an innovative manufacturer of screw compressors in the construction industry. The company required prototypes of compressor shafts, which are critical components in screw compressors. These compressor shafts play a vital role in connecting the two counter-rotating rotors and enabling gas compression between the rotors and the housing. The specific requirements for the components were challenging, as they needed to withstand significant mechanical loads and operate under thousands of rotations during operation. The components featured complex freeform surfaces and were of considerable size, measuring 100x100x400 mm. Due to their size and complexity, conventional manufacturing methods were costly and time-consuming.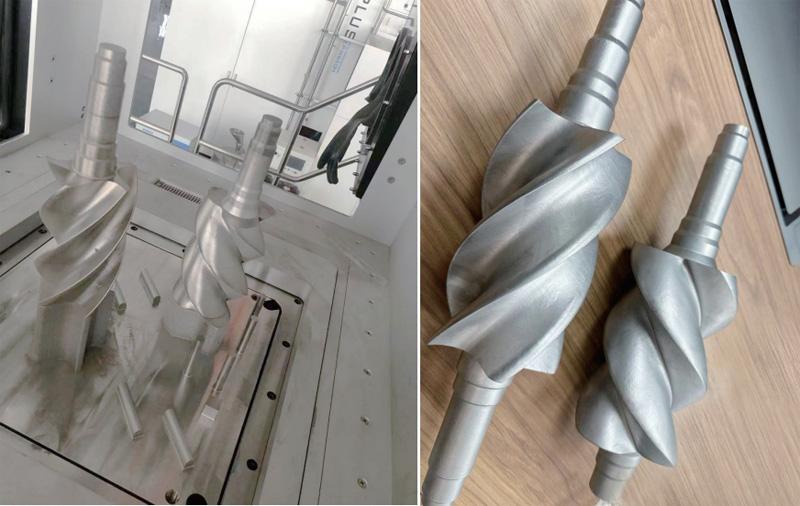 OPERATION PRINCIPLE OF A SCREW COMPRESSOR
Before delving into the approach for manufacturing the compressor shafts, it is essential to understand the operation principle of a screw compressor. A screw compressor is a machine that compresses air or gas by passing it through two counter-rotating rotors with special profiles. The two rotors are located within a housing and rotate in sync, resulting in continuous gas compression. The compressor shafts connect the two rotors, ensuring a smooth rotational motion. This process leads to an increase in gas pressure, enabling efficient compression. Therefore, the compressor shafts require high strength and mechanical stability to withstand the complex operating conditions. In addition, the parts must be stainless, because a lot of moisture is released during compression and decompression of ambient air.


APPROACH
Given the challenges in traditional manufacturing of the large compressor shafts, LUMO decided to conduct a technology-open feasibility analysis to explore alternative manufacturing methods. Three main options were considered: traditional manufacturing by CNC milling and CNC grinding, casting, and 3D printing.
Casting was quickly ruled out as unsuitable, as the components did not exhibit sufficient material properties due to their complex freeform surfaces and high mechanical loads. Additionally, the production of casting molds would have required a significant lead time, which did not meet the need for rapid prototypes.
Machining is not financially competitive due to the very high costs and high tool wear, especially in view of the production of several variants. This is mainly due to the high complexity of the free-form surfaces.
However, 3D printing emerged as a promising alternative, offering a range of advantages that could overcome the challenges of traditional manufacturing. In particular, the following aspects convinced LUMO and the customer:
1. Reduced Lead Times: 3D printing enables faster production since it operates directly from digital 3D models. This aspect was crucial as the customer required prototypes quickly for functional testing to validate the design concept and potentially make further adjustments.
2. Design Flexibility: 3D printing provides high design flexibility, allowing seamless production of complex freeform surfaces. As a result, the intricate geometries of the compressor shafts could be effortlessly realized without incurring additional costs for special tools or molds.
3. Material Selection: 3D printing offers a wide range of materials that could be selected to meet the specific requirements of the compressor shafts. Taking into account the desired properties such as hardness, abrasion resistance, thermal conductivity, and machinability, Eplus3D recommended the CX material as the ideal solution.
4. Cost Efficiency: Although 3D printing for large components might initially appear more expensive, the overall costs were significantly lower compared to traditional manufacturing with CNC machines. 3D printing generates less material waste and requires less manual labor.
Following consultation with the customer and other involved parties, the design of the compressor shafts was adjusted accordingly to ensure optimal printability. The 3D printing process was ultimately carried out by Eplus3D using the CX material. The 3D printing was performed on industrial metal 3D printers utilizing powder bed fusion technology, enabling precise and high-quality components.
After the 3D printing process, the components underwent meticulous CNC machining to achieve the required accuracy and surface quality. The high material density of over 99.9% ensured outstanding machinability, resulting in superior surfaces with a roughness of Rz 6.3 µm. The precision of the bearing seats was also achieved precisely.
Subsequently, the 3D-printed components were integrated into the test setup and subjected to extensive functional testing. These tests confirmed that the mechanical material properties of the 3D-printed compressor shafts met all requirements.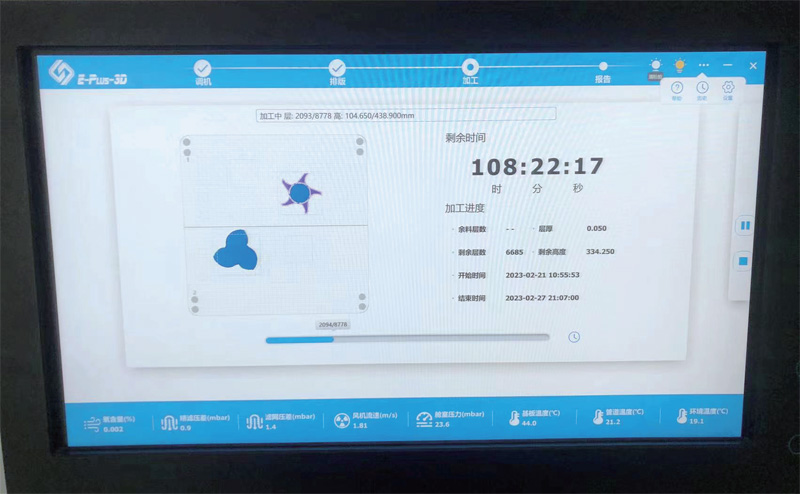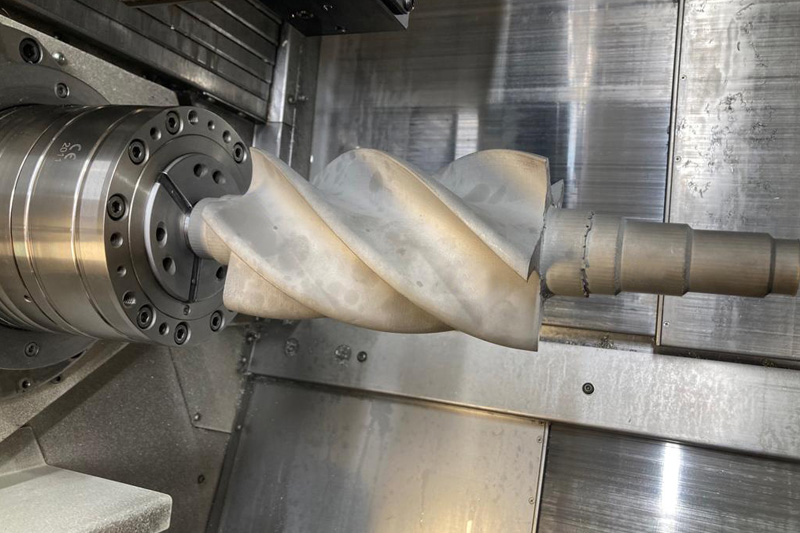 RESULTS
The mechanical properties of the printed components met all specifications and were further optimized through high-quality CNC machining. The components exhibited exceptional machinability, providing surfaces with Rz 6.3 µm at the post-machined bearing seats and Rz 25 µm in the raw middle section, which was sufficient for the intended purpose.
By successfully implementing 3D printing for the production of the compressor shafts, the customer gained valuable insights into the design, which could be incorporated into the subsequent development process. This allowed the company to further optimize and enhance the product's efficiency.
Furthermore, through collaboration with LUMO and Eplus3D, the customer gained comprehensive knowledge of metal 3D printing and learned about the advantages and disadvantages of this technology. These insights had a lasting impact on the company's development processes and opened new possibilities for efficient and innovative manufacturing of large-volume screw compressors for the construction industry.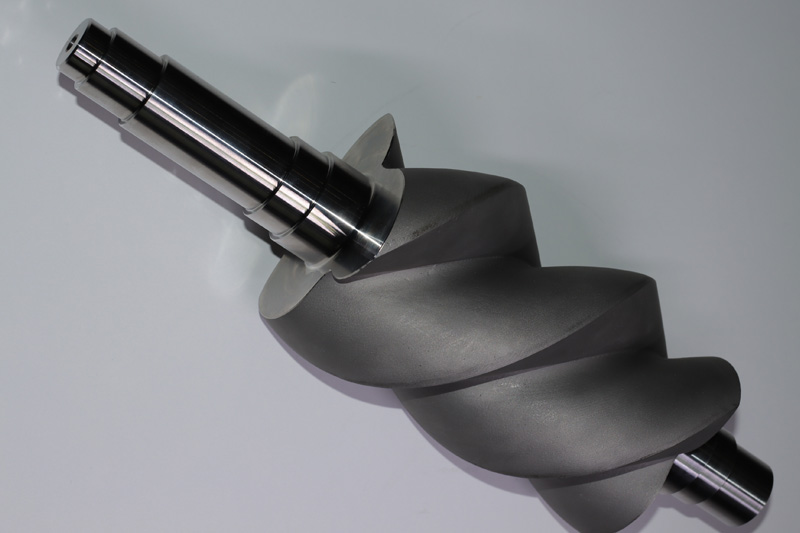 CONCLUSION
This case study highlights the successful collaboration between LUMO and Eplus3D in the production of prototypes for large-volume screw compressors. 3D printing proved to be a cost-effective and faster alternative, while meeting the demanding mechanical requirements. The advantages of 3D printing concerning lead times, design flexibility, and material selection were extensively explained.
The case study demonstrates that metal 3D printing is a promising technology capable of cost-efficiently producing complex components without compromising on quality. The partnership between LUMO and Eplus3D showcases the benefits of a targeted collaboration between a 3D printing service provider and an experienced system supplier of additive manufacturing equipment with broad expertise across various industries.
This successful project clearly demonstrates the potential of 3D printing as a disruptive technology that can have a sustainable impact on mechanical engineering. Engineers and decision-makers should consider this opportunity and view 3D printing as a valuable addition to traditional manufacturing methods, enabling the development of more efficient and high-performing products to meet the growing demands of the industry.


ABOUT THE MATERIAL
The high-performance powder CX is specially developed for use in additive manufacturing. It combines excellent processing properties of maraging steel with the high corrosion resistance of stainless steel. The powder offers a unique combination of material properties, including excellent processability in powder bed fusion and adjustable hardness values of up to 54HRC.
The advantageous properties of CX are established during the powder manufacturing process, which involves precise alloying element tuning and metallurgical processing of the molten mass under vacuum. The hardness values can be precisely adjusted through targeted heat treatment after additive manufacturing.
Due to its exceptional material properties, CX is suitable for a variety of applications, especially in model and mold making. Molded parts made from this material are polishable and corrosion-resistant, making it ideal for medical applications or use with aggressive plastics.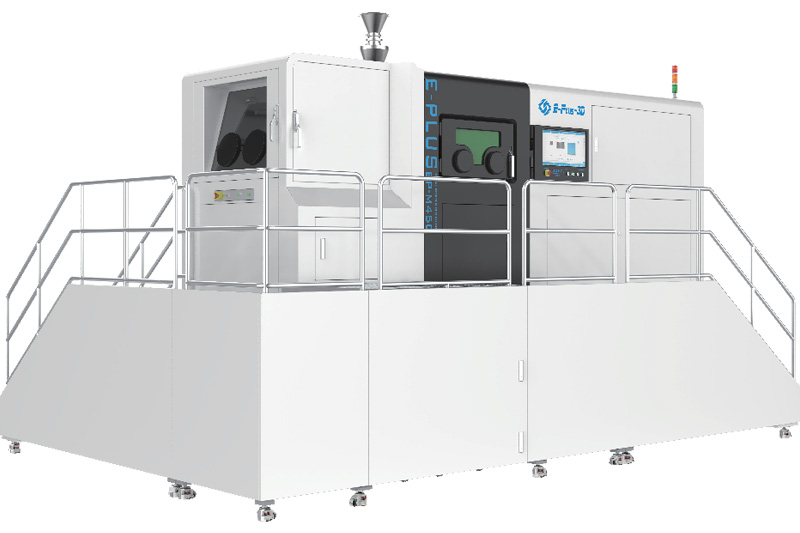 ABOUT METAL 3D PRINTER EP-M450
EP-M450 is a marvelous metal printer that makes the production of reliable and high quality large metallic parts viable on industrial scale without requiring any tools. With its user friendly software interface, one click printing ability and optional single/dual/quad 500 Watt fiber lasers, EP-M450 takes digital additive manufacturing one step ahead in the field of large scale industrial applications.


EP-M450 PARAMETER
| | |
| --- | --- |
| Build Volume (X x Y x Z) | 450 x 450 x 550 mm (17.72 x 17.72 x 21.65 in) (height incl. build plate) |
| Optical System | Fiber Laser 500 W / 2 x 500 W / 4 x 500 W (700 W and 1000 W are optional) |
| Spot Size | 70 - 130 μm |
| Max Scan Speed | 8 m/s |
| Theoretical Printspeed | Up to 190 cm³/h |
| Layer Thickness | 20 - 120 μm |
| Material | Titanium Alloy, Aluminum Alloy, Nickel Alloy, Maraging Steel, Stainless Steel, Cobalt Chrome, Copper Alloy, etc. |
| Power Supply | 380V, 30 A, 50 / 60 Hz, 13.3 kW |
| Gas Supply | Ar / N2 |
| Oxygen Content | ≤100 ppm |
| Dimension (W x D x H) | 5670 x 3700 x 3325 mm |
| Weight | 10000 kg |
| Software | EPControl, EPHatch |
| Input Data Format | STL or other Convertible File |


About Lumo
LUMO GmbH & Co. KG enables machine builders and vehicle builders to produce complex, highly resilient parts without long delivery times and completely without tooling costs. The company is a reliable partner that supports customers with application-specific product development, the redesign of existing products and the production of components. State-of-the-art plant technology is used for scan capture, 3D printing and post-processing.


About EPLUS3D
Since founding the first SLS machine in China in 1993, Eplus3D has more than 30 years of AM technology experience and is engaged in research and development of industrial-grade Additive Manufacturing systems and application technologies with MPBF™ (Metal Powder Bed Fusion) and PPBF™ (Polymer Powder Bed Fusion) 3D printing technology.
Eplus3D has four facilities in Beijing, Hangzhou, Stuttgart and Houston, with an annual scientific research investment of more than 20% of the revenue with comprehensive invention patents, utility model patents, software copyrights as well as appearance patents. It has made remarkable achievements in the design, process, software, materials and post-processing development for additive manufacturing.
Contact us for tailored AM solution.