In the late 1980s, China introduced 3D printing technology into the medical industry, mainly to help doctors build 3d models of lesions for surgical plans. With the development of 3d printing technology and its deep integration with medical treatment, 3d printing has been gradually involved in the manufacture of oral restoration, customized prosthesis, surgical guide and implants.
The output value of 3D printing technology applied by top domestic enterprises has increased rapidly. For example, in a listed company, the proportion of 3d printing business has increased from less than 1% in 2015 to about 10% in 2018. At present, many 3d printing products need to pass Class II or Class III certification. With the gradual opening of CFDA, medical 3d printing will shine brightly.
Medical AM Solution by SLA Technology
SLA technology can be used to print dental molds in batches and make personalized surgical guide plates, making dental molds and other dental digital design and production solutions more affordable, accurate and reliable. For models and surgical guides, mechanical and chemical performance specifications should be met, and products should be sterilized.
- 3d printed skull surgical guide

A patient in the neurosurgery department of a hospital in Shandong was diagnosed with a brain meningioma with a diameter of 1cm. It was an emergency. After consultation, resection was decided, and preoperative tumor positioning guide plate was made to accurately locate and remove the tumor in the patient's skull. With the help of CT scan data, the location of the meningioma was accurately located. By constructing a 3d brain model, the incision location was determined, and the surgical positioning guide plate matching the patient's skull was designed and printed in a short time, so as to assist the surgeons to successfully complete the resection of the left parietal sinus meningioma.
-3d printed transparent orthodontic braces
Scan plaster dental model, according to the professional correction scheme, the 3d orthodontic dental data were designed, and printed with Eplus3D EP-A650 SLA 3d printer, then sterilized by membrane pressure to make transparent orthodontic braces. It has the advantages of invisible appearance, high efficiency, safety, reliability, convenience and hygiene. A dental company in Hangzhou adopted this scheme and successfully realized technology upgrading and productivity improvement.
Medical AM Solution by MPBF Technology
Metal powder bed fusion technology enables the mass manufacture of surgical instruments and implants, and the personalization of metal medical implants, achieves high design freedom, allows the creation of complex shapes with improved mechanical and material properties. 3d printing reduces the difficulty of the process, and can realize one-step from CAD design to final products. For example, the femoral stem of the hip joint contains a central solid and porous surface structure (which induces bone growth). For metal implants, according to the requirements of CFDA, customized product quality management system, user report and follow-up after use are needed.
-3d printed dental crowns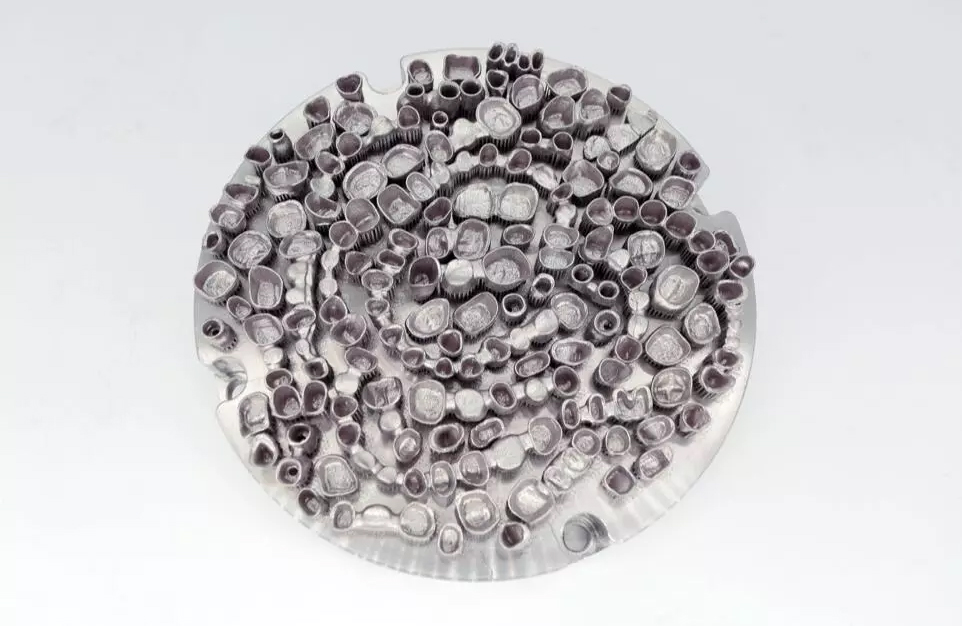 The digital and additive manufacturing dental solutions use 3d scanning and CAD design to obtain dental 3d data, which are then printed with Eplus3D EP-M150T metal 3d printer, and then do porcelain cover, so as to reduce processing procedures, improve production environment, replace manual operation with digital processing, reduce labor cost and ensure the product quality consistency.
-3d printed medical components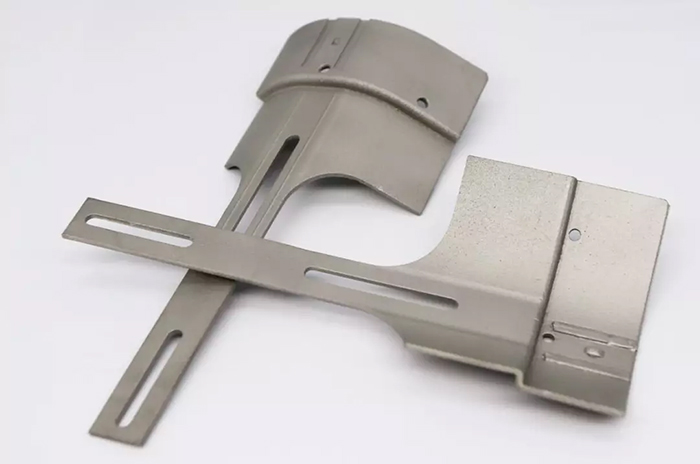 This medical component was originally made by milling and EDM, which has low yield, long production cycle, and difficult quality control. After CAE analysis, the light density design is carried out for the place without load, and the strengthening design is carried out for the place with heavy load, such as the end need to be welded, then printed with Eplus3d EP-M250Pro to realize light weight and increase the output.
Benefits achieved:
1) Shorten delivery time: the original 150 pieces are delivered within 50 days, the metal powder bed fusion technology is adopted, he delivery can be made within 15 days.
2) Cost reduction: it used to be US$ 80/pcs, but now the integrated cost is US$ 30/pcs.
3) Improve quality: it is lighter, and the structure of the place where welding is needed is optimized to prevent excessive distortion.
In addition to the dental, surgical guides, implants, medical components and other applications mentioned above, we are also developing orthopedic, rehabilitation aids and other application solutions, and welcome to discuss with us.