Metal 3D printing has been widely used in various industries, especially large-scale products with complex structures, which are increasingly inclined to adopt metal 3D printing, because it has incomparable advantages over traditional manufacturing.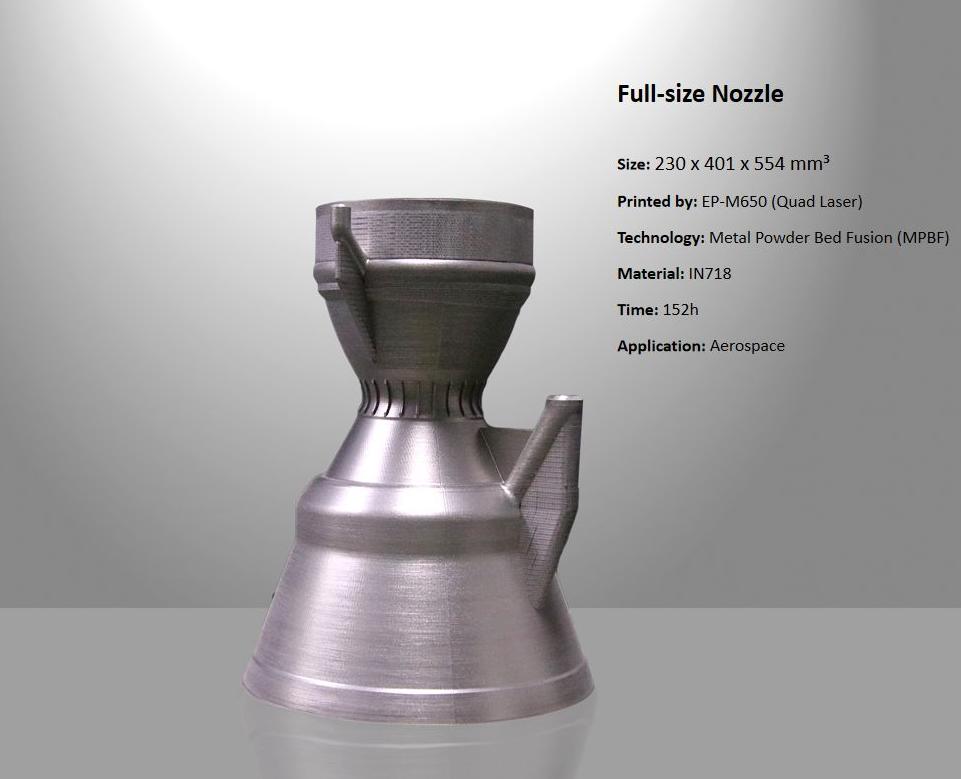 Full-size nozzle printed by EP-M650

Metal 3D printing adopts additive manufacturing. When using metal 3D printing to manufacture large-scale objects, the material utilization rate could be one of its major advantages. However, the traditional manufacturing uses subtractive manufacturing, which will cause a huge loss of raw materials.
As labor costs rise too much, especially for the manufacture of large-size products, the operational advantages of metal 3D printing are becoming more and more obvious. Compared with traditional manufacturing processes, metal 3D printing saves the cost of training mechanics and purchasing new equipment. Metal 3D printing only requires different digital design and new raw materials.
Metal 3D printing breaks through the limitations of traditional craftsmanship on design. The internal structure of some large-scale products can be perfectly interpreted through metal 3D printing.
Metal 3D printing can achieve better mechanical properties, because it uses powder bed fusion technology, the internal metallurgical quality of the molded parts is uniform and dense, and there are no other metallurgical defects. At the same time, because of the internal organization of the material is a fine structure, the strength of the molded parts is highly improved.
Eplus3D focuses on the R&D and manufacturing of large-scale equipment and has been recognized by various high-tech manufacturers. It focuses on both equipment and technology, so Eplus3D is able to provide our customers with complete solutions, including equipment, design, materials and final applications. Welcome to contact!