In May 2023, Eplus3D debuts at Rapid+TCT 2023, the largest and the most effective additive manufacturing event in North America. The event gathered more than 350 exhibitors this year, showing off the latest and the most shining industrial technologies.
Founded in 2014 and with a core technical team of more than 30 years of AM technology
experience, Eplus3D is engaged in the research and development of industrial-grade Additive Manufacturing systems and application technologies using MPBF™ (Metal Powder Bed Fusion) technology.
Eplus3D has four facilities in Beijing, Hangzhou, Stuttgart and Houston, with an annual scientific research investment of more than 20% of the revenue with comprehensive invention patents, utility model patents, software copyrights, and appearance patents. It has made great achievements in the design-, process-, software-, materials- and post-processing development for additive manufacturing and has successfully implemented AM solutions at customer sites in more than 40 countries and regions.
After the launch of the new Quad-laser Metal Powder Bed Fusion machine EP-M400, Eplus3D presented at Rapid+TCT 2023 with its multi-laser large-format metal AM solutions. Together with EP-M650 and EP-M1250 multi-laser series, Eplus3D continues to combine the features of large-format MPBF metal 3d printing and innovation technology to establish a new level of performance for metal additive manufacturing. It aims to further expand the application of multi-laser large-format metal 3D printing in multiple industries.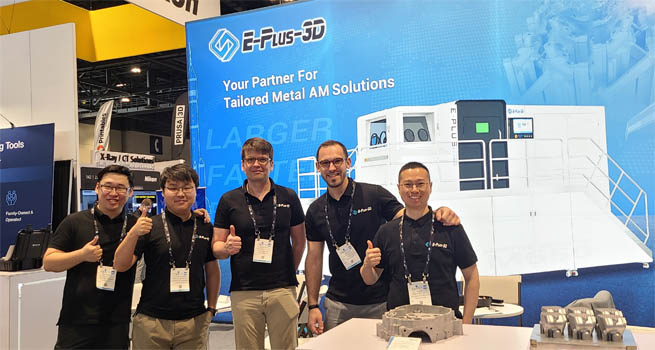 To date, Eplus3D's line-up consists of 10+ major advanced metal 3D printers, varied from the printing size and volume. Eplus3D's metal printers are equipped with up to 9 lasers, and it is no doubt that the printing work can be done in the machine in a quicker time in a bigger building chamber, Eplus3D's biggest building volume can be up to 2m³and build speed can be up to 240 cm³/h, compared to other machines with fewer lasers and smaller volume.
Through this great exhibition, Eplus3D has gained deeper insight into the latest metal 3D printing development and trends in the 3d printing industry as well as finding more opportunities to reach the wider market, and will surely attend Rapid+TCT 2024 to meet more fabulous thoughts and ideas.
See you next year!