EPLUS 3D looks to expand its additive manufacturing line with the release of EP-M450, the high-quality and large-size metal powder bed fusion machine, which has large build size, high working efficiency and stable quality. The applicable materials include titanium alloy, aluminum alloy, Inconel alloy, mold steel, stainless steel, cobalt-chromium alloy, etc., which are suitable for the direct manufacturing of large-size and high-precision parts in aerospace, military industry, molds and other fields.
EP-M450 adopts metal powder bed fusion (MPBF) technology. The building chamber has a size of 455 ×455 × 500mm³ and a volume over 100L, with single or dual laser option, the maximum building speed can reach 55 mm3 / h. It can realize thicker layer thickness for further productivity gains. Combined with the self-developed process software, the optimized scanning strategy is realized and the efficient production is ensured. This machine can run continuously and stably for a long time, and can print parts with high-density, uniform and stable printing quality. There is no significant difference (+3%) in mechanical properties between single laser and dual laser. The machine adopts imported customized core optical devices and components, which brings higher stability and reliability. The self-developed EPHatch process software is compatible with the file format generated by mainstream market design software. The powerful EPlus control software has an open and friendly user interface and support one-click printing, enables our users to manage their digital files easily from build preparation and parts positioning all the way to in-build monitoring and reports generation. The machine can print a variety of materials without adjusting the optical path under the same condition, which is suitable for the manufacturing requirements of various large-scale parts.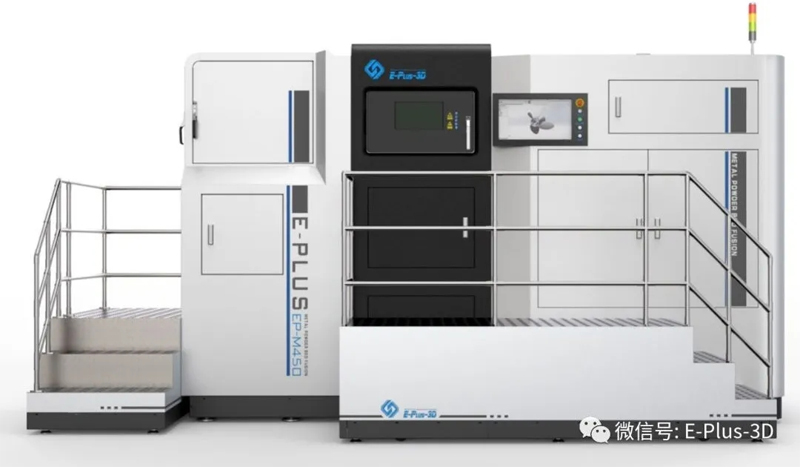 E-PLUS 3D is located in Beijing, China, as a high-end enterprise specializing in industrial additive manufacturing in China. It is the leading undertaker of the national key R & D plan " Research and Development of Large-scale Powder Bed Fusion Process and Equipment ", with a production base in Hangzhou and technical service teams in the United States and Germany. It is a leading 3d printing equipment manufacturer and application solution provider in China.
Over the past 20 years, the core technical team of E-PLUS 3D has been deeply researching and developing additive application fields, providing industrial-grade 3d printing services, cooperating with customers in different industries to develop solutions, and providing customers with effective technical support for application solutions for customers in various fields.