Metal 3D printing is a very cool technology because complex metal parts can be produced in original material quality. Thanks to the degrees of freedom offered by the metal 3D printer, we can also produce fancy parts that may look like a normal component from the outside, but actually an integrated complex structure inside, which is impossible to produce with traditional manufacturing way and shows a very high degree of flexibility, SMEs could use very well to be flexible in particular.
Cost Saving
Material:
Subtractive manufacturing, the process usually starts with a solid block of material, and then uses various tools to remove the material and shape the part. Different from the above traditional manufacturing ways, metal 3D printing is an additive manufacturing way which builds layer by layer, reduce material waste in an effective way.
Inventory:
With 3D printing production, SMEs can produce what they need at any time. SMEs will benefit greatly from 3D printing and can launch innovative products without incurring huge inventory costs.
Molding:
According to the traditional production process, before a single end part can be put into production, SMEs must make a tool or mold while 3D printing does not have any production preparation costs.
Shortens of product development cycle
Metal additive manufacturing is designed to accelerate product development. Using metal 3D printers, SMEs can quickly and affordably prototype functional parts. In some cases, they can print end-use parts in small batches, eliminating manufacturing time greatly.
Ability to design geometrically complex parts
From complex geometries shapes to process optimization, 3D printers can print everything from generative design structures to customized products. For these parts, 3D printed metal strength performs well in demanding applications. In addition, 3D printers can manufacture parts with complex curves, shapes or cavities that traditional subtractive manufacturing processes cannot produce.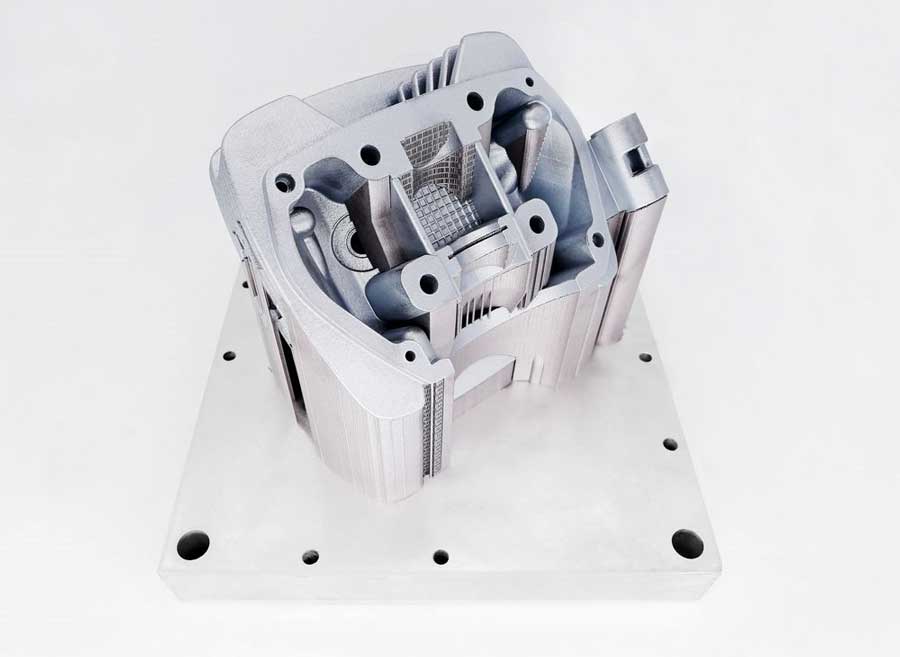 Cylinder head produced by EP-M260 for Automotive
Most SMEs produce small quantities of special products. But it is actually the case that 3D printing is not at all widespread in SMEs, which have only survived in recent years in Germany and Austria, because they have adapted very successfully to market requirements.
Despite the many advantages , only about less than 2% of the classic SMEs use the 3D printing and why is that ? There are actually reasons for this, the most classic one is a lack of know-how. SMEs don't know how to operate such a system, they also don't know how to make the most of the so produced product's advantages and how to design for metal 3D printing model.
Eplus3D have a fully dedicated service department, and our technicians are experienced and qualified in operating our machines. Engineers and technicians will enable you to get the most out of our machines, maximizing your production output and quality, and also take the responsibility of after-sales services. Besides, Eplus3D local resellers and Eplus3D branch offices in different countries will also offer assistance and support. Welcome to contact Eplus3D for more tailored solutions.