The current metal 3d printing PBF energy sources are mainly laser beam type and electron beam type. The output power and scanning speed of these two methods are different, resulting in a huge difference in whether the entire platform surface will be preheated layer by layer or not, which will then affect the residual stress and powder removal.
The laser beam type does not perform preheating, but the electron beam type does. As a result, the magnitude of residual stress and the state of powder of the 3d printed parts will change, and the post-molding process has its own advantages and disadvantages.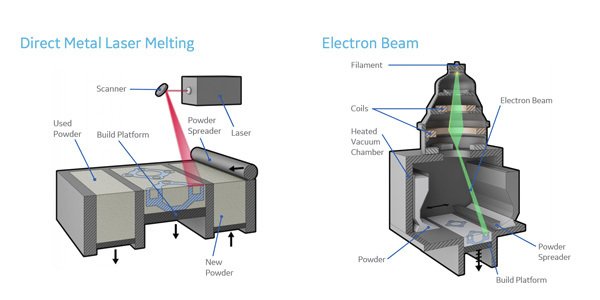 For LB-PBF laser beam source metal 3d printing, there is a great residual stress because of the temperature difference during the printing process, we must add a very strong support to withstand this residual stress. In this way, it will result in the difficulties to remove the support from the building plate.
For EB-PBF electron beam source metal 3d printing, it has a small temperature difference and low residual stress due to the pre-heating, so it can be printed only with a simple support.
As mentioned above, from the perspective of the support (residual stress), the electron beam type is more dominant. But the laser beam type also has advantages. That is the powder removability.
In fact, the metal powder will "become a pseudo-sintered state" after preheating. When the laser beam type is used, the part outside the modeling range can be directly taken out as powder, while the electron beam type is preheated, and the powder on the entire modeling table becomes a slightly solidified state. This kind of redundant part that becomes a pseudo-sintered state can be removed by sandblasting, but the part that cannot be sprayed is difficult to remove, which results in that components with complex circuits cannot be completely removed.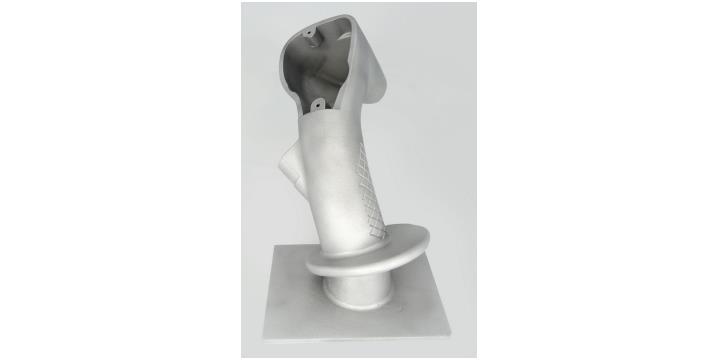 3D-printed hand shank