EP-M150 is a dental additive manufacturing machine developed by Eplus3D. With Metal Powder Bed Fusion (MPBF™) technology, it is an ideal choice for dental clients to print dental metal crowns, bridges, brackets, etc. Recently, numerous clients worldwide have ordered EP-M150 metal dental 3d printer from Eplus3D and some of them have already been ready for shipment.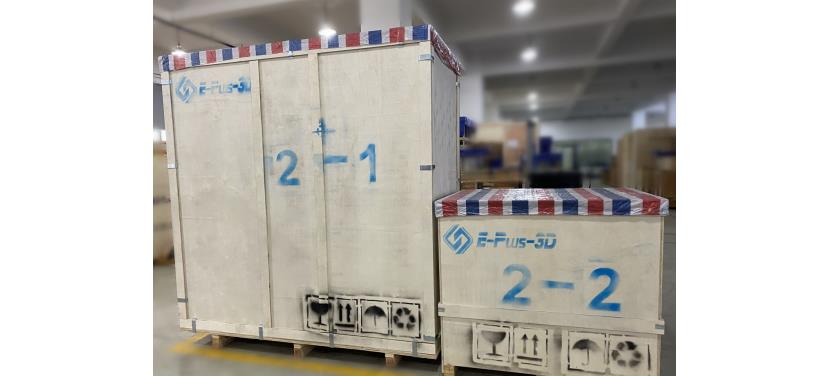 EP-M150 ready for shipment
However, why Eplus3D metal dental 3D Printer EP-M150 is widely recognized worldwide? Today we will guide you through the following two aspects.
1.Metal 3D Printing Trend in Dental Industry
Demand for denture implants is the fastest growing segment of the dental industry worldwide,andmore and more dental laboratories are entering this lucrative field. It is very important for dental laboratories to use efficient metal 3D printers to cope with increasing costs and competitive pressures in the industry.

Dental Framework printed by EP-M150
From casting to milling to metal 3D printing: The history of metalworking is also reflected in the development of dental technology. Metal 3D printing is faster and more cost-effective than traditional manufacturing techniques. For different applications in the dental industry, metal 3D printing can provide different solutions. Many individual geometric shapes can be easily and efficiently fabricated using metal printing to ensure the efficient production of custom dental products.
Metal 3D printers can produce dental products faster than traditional methods such as milling technology. Metal 3D printing is not only conducive to production, but also relies on the digital process chain to process the data of dental products in real time and carry out digital molding, which is much faster than the traditional preparation.
The efficient utilization of metal 3D printed materials, as well as the excess powder can be simply treated after the printing process and then recycled,whichcan save a lot of unnecessary waste for dental laboratories. Metal printing can print complex geometric shapes in a very small space, which can significantly improve the quality of manufactured parts.
To sum up, metal 3D printing will be more and more widely used in dentistry, and will also become the main force for the growth of metal 3D printing. So that's why Eplus3D developed its own metal dental 3D Printer EP-M150 and promote it to customers worldwide.
2. Advantages of EP-M150
As one of the most efficient Metal Dental 3D Printer worldwide, EP-M150 has two unique advantages: high material utilization rate and low gas consumption.
l High material utilization rate
EP-M150 can print 550 crowns only by 1kg powder with improved powder feeding and sieving system, which makes full use of the materials to save the operation cost increasingly.
l Low gas consumption
Withoptimized chamber structure and excellent sealing properties, EP-M150 can minimize gas consumption <0.2L/min (printing period is 0.3±0.1MPa).
Besides, EP-M150 only takes around 5.5hrs to print a full plate of teeth (around 220 crowns), takes around 6.5hrs to print a full plate of partials (around 15 pcs.) which can print dental metal crowns, bridges, brackets, etc. very efficiently.

Printed by EP-M150
Due to all of these factors, Eplus3D metal dental 3d printer EP-M150 has been widely recognized worldwide. Besides, Eplus3D continues to develop its products and technology, striving to provide more innovative metal additive manufacturing machines for customers worldwide.
Welcome to contact Eplus3D specialists to discuss more about AM solutions.