In Q2 2021, Eplus3D won another large order of metal 3D printers. 2 sets of metal 3D printers EP-M260 are ready for delivery to Europe for industrial applications. This year, Eplus3D metal 3D printers have received more and more recognition worldwide with their advantages of high productivity and low operation cost.

Metal additive manufacturing integrates comprehensive technologies such as powder bed laser fusion, metal binder jetting and laser cladding. MPBF™(Metal Powder Bed Fusion), as used by Eplus3D metal 3D printers, follows the principle of the proven PBF technology for almost 30 years, and is now the standard in metal 3D printing for direct industrial production. The MPBF method is mainly applied for manufacturing in demanding industries such as aerospace, automotive, dental, healthcare, tooling and machinery. Those industries demand uniform part quality with high performance properties like those achieved by conventional casting or forging processes.
Eplus3D metal printers are available from entry-level models to multi-laser machines for additive production at industrial grades. We also provide advanced processes for industrial metal 3D printing with the most various metal materials compatible, including aluminum alloy, titanium alloys, cobalt chrome, nickel based alloys, stainless steel, tool steels, copper alloy, and other micro grade metal powders.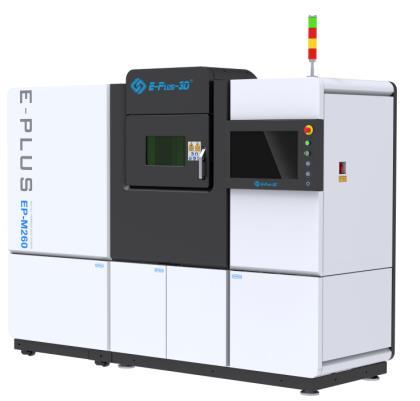 About EP-M260 Metal 3D Printer
EP-M260 is an industrial grade metal 3D printer that uses advanced metal powder bed fusion (MPBF) technology. It is capable of easily and quickly converting CAD data into high-performance, complex structure metal parts. This 3D printer is an ideal choice for medium sized parts and small batch production.
Features:
CONSISTENT PERFORMANCE
Innovative gas flow management and optimized filter system ensure a stable building environment.

Outstanding sealing capability optimizes oxygen content.


Precise laser beam quality control.

HIGH PRODUCTIVITY
Dual-Laser system equipped with build volume of 266x266x390mm³.

Non-stop operation during filter change.


Optimized recoating strategy shortens coating time.

RELIABLE AND EASY OPERATION
Convenient powder recycling systems and glove box structure minimize powder contact.

Intelligent software ensures less human intervention.


Real-time monitoring of the production environment and building process.

LOW OPERATION COST
Quantitative powder feeding and coating ensure less powder waste.

Advanced filtration system significant increases filter lifetime.


Low inert gas consumption during purging and operation.