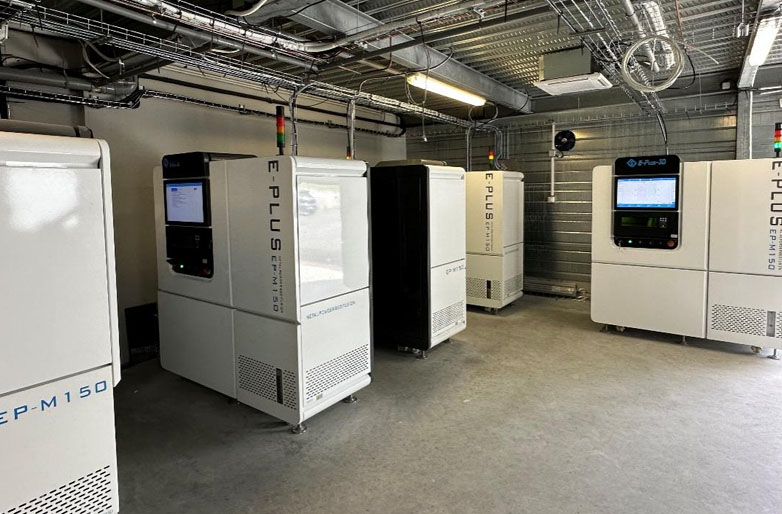 A fleet of EP-M150's in full production at 3Dental
In the field of modern dentistry, technological advancements have not only improved patient care but also transformed the way dental professionals approach their craft. The integration of 3D printing technology has been a game-changer, enabling faster, more accurate, and cost-effective production of dental frameworks. Instructed by 3D expert BioSummer 3D, 3Dental, a pioneering dental production centre, has harnessed the power of Eplus3D EP-M150 machines to elevate their capabilities and set a trajectory for future growth while maintaining high-quality standards.
The France based company is at the forefront of this revolution, a customer that has embraced Eplus3D EP-M150 machines for printing Dental parts and frameworks. 3Dental started their journey back in 2021 when they were seeking customised production capabilities. Following multiple comparisons and cost estimations they decided to go with the EP-M150 system.
These machines are designed to produce dental frameworks with remarkable precision, efficiency, and reliability. The EP-M150 leverages advanced additive manufacturing techniques to construct intricate dental components layer by layer, ensuring a level of accuracy that surpasses traditional methods. One of the standout features of Eplus3D EP-M150 is its ability to produce dental frameworks at a low cost per part, without compromising on quality. This innovation significantly reduces the financial burden on dental practices, enabling them to provide high-quality restorations to their patients at competitive prices.
The EP-M150 system has the capability to manufacture a full plate of teeth (up to 220 crowns per print) in 5.5hrs, and around 8 hours to print a full plate of partials (up to 25 pcs per print). The exceptional performance of the machine combined with the support provided by Eplus3D and the expertise of 3Dental, has made the complete solution financially viable for full production of dental frameworks. This had led to 3Dental's continued investment at a rate of one machine per quarter since receiving their first Eplus3D system, with plans to increase their capacity with 4 more machines in the future.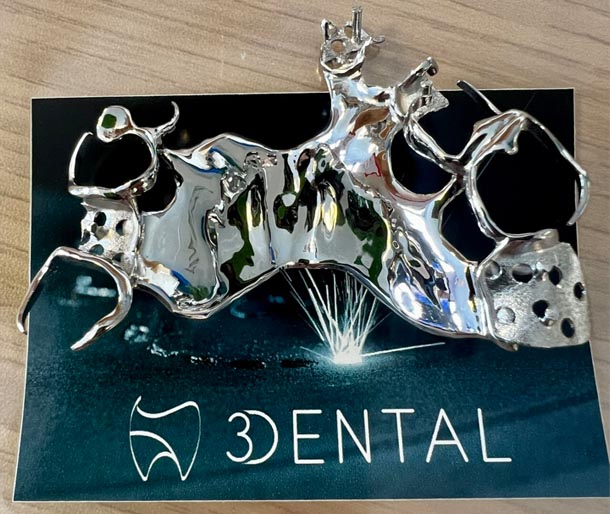 3Dental Testimony
"Since the creation of 3DENTAL, we have been committed to revolutionizing the world of dental prosthetics using the most advanced technology, while maintaining an unparalleled standard of excellence. It is this requirement that led us to Eplus3D and their innovative EP-M150 machine.
Our dedication to precision, superior quality and efficiency has always been our driving force. Eplus3D's EP-M150 has seamlessly integrated into our work ethic, reinforcing our ability to deliver exceptional dentures to our customers.
Looking to the future, we are excited about the endless possibilities that our collaboration with Eplus3D will continue to bring. Our shared commitment to excellence ensures that the best is yet to come."
Fabien Lemarinel – Director General at 3Dental
If you would like to get in contact and learn more about how Eplus3D can guide you to realise your AM potential, see the links below.
EP-M150 is one of the metal 3D printers of Eplus3D's successful EP-Metal Series Metal AM machines.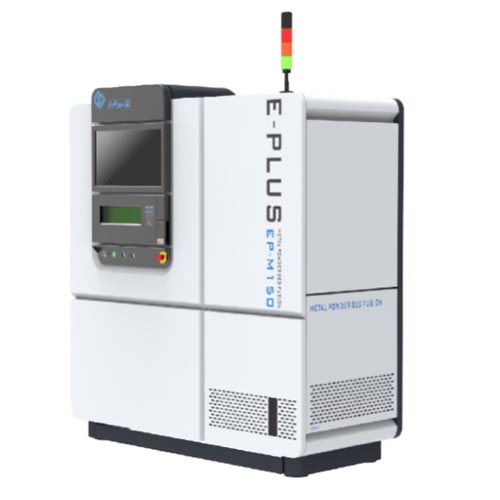 It adopts metal powder bed selective melting MPBF™ (Metal Powder Bed Fusion) technology, and single and dual-laser printing modes are optional, supporting 200 and 500 W laser, which can be perfectly used for the rapid production of high-performance, high-precision parts. Compatible with most popular metal powder materials, including titanium alloy, aluminum alloy, nickel-based alloy, maraging steel, stainless steel, cobalt, chromium alloy, etc. It has been applied in versatile applications such as industrial manufacturing, medical, education, dental, materials development, etc.
3DENTAL is a company specializing in the manufacture of dental prostheses using innovative digital technologies, working on high-end machines capable of producing high precision dental prostheses in 3D printing. 3DENTAL offers prostheses manufactured by Laser Sintering, from the temporary to the implant bar, including the fixed prosthesis, the joint prosthesis, and the removable prosthesis.
BioSummer 3D offers complete solutions around 3D printing technologies for the medical sector . Beyond the simple supply of the right 3D printer to simplify the exercise of the practitioner, BioSummer 3D provides a complete digital chain including digital acquisition devices (scan), 3D design software, adequate materials and tools, post-processing. BioSummer 3D is the exclusive partner of Eplus3D in France for the dental market.
Eplus3D, founded in 2014, is dedicated to the development and production of industrial 3D printing systems for direct manufacturing. Since founding the first SLS machine in China in 1993, Eplus3D has more than 30 years of AM technology experience and is engaged in research and development of industrial-grade Additive Manufacturing systems and application technologies with MPBF™ (Metal Powder Bed Fusion) and PPBF™ (Polymer Powder Bed Fusion) 3D printing technology. Eplus3D has four facilities in Beijing, Hangzhou, Stuttgart and Houston and has installed over 800 sets of 3D printers in more than 40 territories. For established tailored AM solution, feel free to contact us.