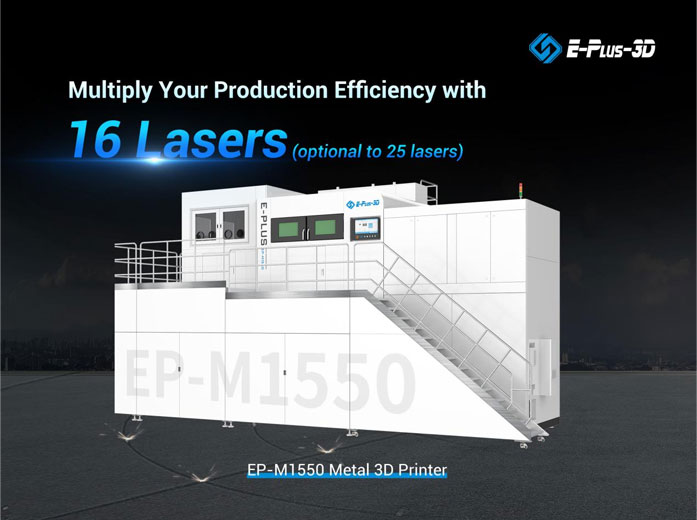 Here at Eplus3D we have been pushing the boundaries of what is possible in Metal powder bed fusion (MPBFTM). The word is out, and we have added a new member to our large-platform printing capability, with the launch of the largest system on the market in the form of the EP-M1550. With a 16-laser capability in combination with the largest build platform for this type of printing technology, making printing large-format parts economically. As the world's first 16 laser MPBF system (optional to 25 lasers) demonstrating Eplus3D as one of the market leaders for large frame machines.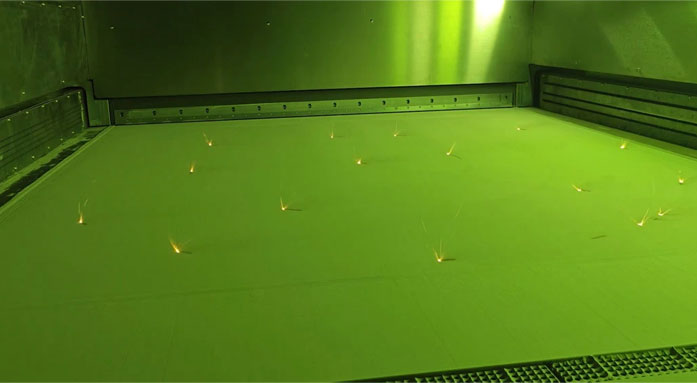 Lasers are dancing!
EP-M1550 adopts an innovative configuration utilizing a four-by-four matrix of sixteen-laser and sixteen-galvanometers. Allowing for the Sixteen lasers to be operated synchronously ensuring the system's high build rate of up to 650 cm³/h. The optics system can also be configured to include a five-by-five matrix to include twenty-five laser and twenty-five galvanometers at a customer's request.
Metal part printed by EP-M1550 debuted at TCT Asia 2023
With the design of the machine being focused on large scale production, the build volume of EP-M1550 reaches 1558 x 1558 x 1200 mm with the option of extending the height up to 2000 mm. This gives a functional printing volume of 2,670 Liters including the build plate and even larger with the extended Z. Making this system one of the largest production MPBF system on the market.
With the options of either 500W or 700W lasers the machine has the capability to print a wide range of materials such as titanium alloys, aluminium alloys, stainless steels, and mold steels to name a few. Giving the same number of material options as our other smaller frame systems. The machine can manufacture at layer thicknesses from 20µm - 120µm, combined with intelligence automation processes and high beam quality of our optical system. The EP-M1550 is the ideal choice for manufacturing large-size, high-precision and high-performance parts for aerospace and other industries.
EP-M1550 Video:
The EP-M1550 is a remarkable technology breakthrough which advances the global large-format metal AM to the next level. It realizes the commercial operation of ultra-large-size metal AM and contributes to global manufacturers to retrieve and enhance their competitiveness in the market. Complemented with a high level of customization to achieve our customers application and processing needs.
"We have solved the technical challenges and bottlenecks associated with ultra-large metal LPBF machines and approached the leading level in the industry in terms of advancement and stability of our systems. Delivering Nearly 20 ultra-large machines with printing size 1250X1250X1000mm or bigger to our customers where they are producing parts in a production environment. Eplus3D will continue to provide more reliable and applicable production-level AM systems and solutions to help more customers from the industry."
Mary Li - General Manager International Division
More details about EP-M1550 will be unveiled in Formnext 2023. Stop by our booth 12.0-D41 to learn more about this new machine and its wide applications! Contact us to secure your free tickets now!
Eplus3D has more than 30 years of AM technology experience and is engaged in research and development of industrial-grade Additive Manufacturing systems and application technologies with MPBF™ (Metal Powder Bed Fusion) and PPBF™ (Polymer Powder Bed Fusion) 3D printing technology. Eplus3D provides advanced metal additive manufacturing solutions to bring higher productivity, product quality and working efficiency for enterprises as well as small businesses, including aerospace, automotive, tooling, healthcare, dental, consumer products, education, etc.
Eplus3D has four facilities in Beijing, Hangzhou, Stuttgart and Houston, with an annual scientific research investment of more than 20% of the revenue with comprehensive invention patents, utility model patents, software copyrights as well as appearance patents. It has made remarkable achievements in the design, process, software, materials and post-processing development for additive manufacturing.
APAC Headquarters
Eplus3D Tech Co., Ltd.
Hangzhou, China
P: +86-571-83819589
No. 118 Yanshankong Road, Wenyan, Xiaoshan, Hangzhou, Zhejiang, China, 311258
EMEA Region
Eplus3D Tech GmbH
Ludwigsburg, Germany
P: +49-7141-3888118
Pflugfelder Str. 23, 71636 Ludwigsburg, Germany
Americas Region
EPLUS 3D TECH INC
Sugar Land, USA
P: +1(281)302-6160
12425 W Airport Blvd, unit 201, Sugar Land, TX, 77478