Hanover, 8 November 2023 - Eplus3D proudly announces its latest partnership with IGO3D, a pioneer and leader in professional 3D printing solutions. This groundbreaking collaboration drives the continuous development of IGO3D to offer perfect additive solutions for industrial manufacturing.
By combining Eplus3D's cutting-edge technology and extensive expertise in metal additive manufacturing with IGO3D's innovative solutions and industry-leading insights, both companies are confident of bridging the gaps, providing invaluable value to their customers and crucial to the future of "manufacturing of tomorrow." to advance.
This partnership signals an exciting new era in the world of metal 3D printing technology and underscores IGO3D's commitment to consistently providing best-in-class solutions to its customers.
"The world no longer sticks to a 9 to 5 routine, and in this rapidly evolving landscape, metal 3D printing is proving to be the limitless wave of the future. As a company passionately committed to driving innovation, "We firmly believe that this partnership will pave the way for groundbreaking advances in metal additive manufacturing."
Slaven Mišković, New Business Development Manager, at IGO3D.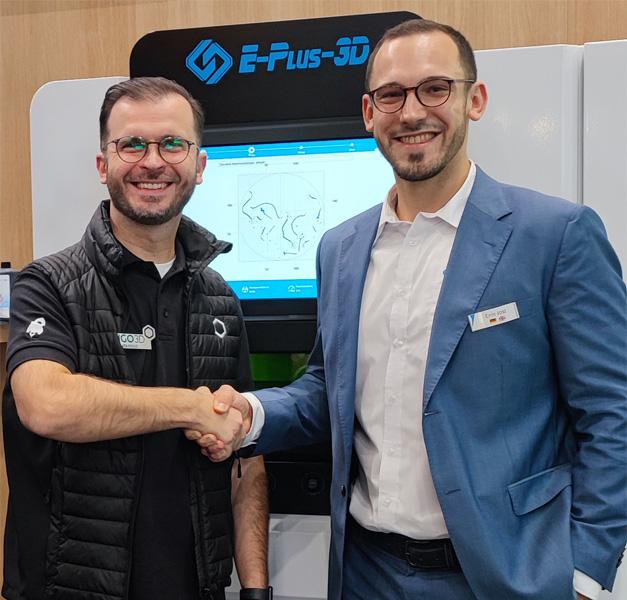 Eplus3D is currently exhibiting the metal PBF-LB Additive Manufacturing machines at Formnext 2023. The booth is Hall 12.0, D41.


About Eplus3D
Founded in 2014, Eplus3D has now developed into one of the world's leading providers of complete solutions in the field of metal additive manufacturing. With more than 80 systems in Europe, particularly in the aerospace, medical and mechanical engineering sectors, the company has extensive expertise in its core markets.
The dedicated team of engineers in Ludwigsburg near Stuttgart offers customer support in German, English, Spanish, French and Arabic. The goal of Eplus3D is to support customers in metal 3D printing through the innovation center with extensive machine equipment and a warehouse for consumables and spare parts. In this way, the company enables rapid success and economic growth for its customers.
Eplus3D is a reliable partner for high-quality metal 3D printing that is valued worldwide.


About IGO3D
Since its founding in 2013, IGO3D has distinguished itself as a leading pioneer in European 3D printing and a multiple "Focus Growth Champion". With a combination of cross-technology expertise and industry-specific solutions for the automotive industry, mechanical engineering and the education sector, the company delivers tailor-made offers.
Supported by its own logistics center and certified workshop, IGO3D has established itself as Germany's most popular 3D printing retailer, with its team of over 50 employees continuing to set industry-leading standards across Europe.